Climate Ambition Summit 2023: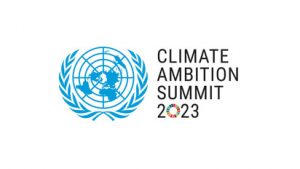 The United Nations Climate Ambition Summit (CAS) held in United Nations Headquarters, New York on 20th September 2023, aimed to accelerate climate action as a prelude to the 28th Conference of Parties (COP28) to the United Nations Framework Convention on Climate Change(UNFCCC).
Climate Ambition Summit (CAS) is a prominent international event aimed at addressing the pressing issue of climate change.
The CAS is designed to showcase "first mover and doer" leaders from government, business, finance, local authorities, and civil society who came with credible actions, policies and plans – and not just pledges – to accelerate the decarbonization of the global economy and deliver climate justice.
The central aim of the CAS is to uphold the Paris Agreement's 1.5°C temperature limit, which seeks to prevent severe climate consequences by capping global warming at 1.5°C above pre-industrial levels.
A total of 34 states and 7 institutions had speaking slots, including India's neighbouring countries Sri Lanka, Nepal, and Pakistan, as well as emerging economies like South Africa and Brazil.
Key players such as the European Union, Germany, France, and Canada also addressed the audience.
Brazil pledged to reinstate its original 2015 climate goals, emphasizing the need for more ambitious measures and a transition away from fossil fuels.
Nepal aimed for Net Zero emissions by 2045 instead of 2050, while Thailand targeted Net Zero by 2050, and Portugal set a carbon-neutral goal for 2045.
All G-20 governments were asked to commit to presenting more ambitious NDCs featuring absolute emissions cuts by 2025.
The summit emphasized the need to deliver climate justice, particularly to communities on the front lines of the climate crisis who are disproportionately affected.