US – Indonesia Military Drill: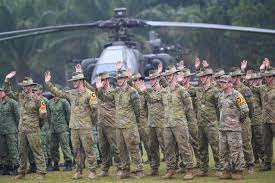 The United States and Indonesian militaries had conducted annual joint combat exercises on Indonesia's Sumatra Island.
For the first time, participants from other partner nations have also joined amid growing maritime activity by China in the Indo-Pacific region.
More than 5,000 soldiers from the U.S., Indonesia, Australia, Japan and Singapore participated in this 2022's exercises.
The exercises were designed to strengthen interoperability, capability, trust and cooperation in support of a free and open Indo-Pacific.
The exercises lasted till 14th August 2022, encompassing army, navy, air force and marine drills.