Cnemaspis Rashidi : A New Species Of Gecko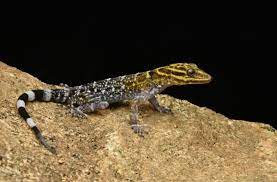 A new species of gecko has been discovered in the Western Ghats near Rajapalayam in Tamil Nadu.
Cnemaspis Rashidi is a new species of gecko.
So far, 93 species of gecko have been documented, and this is the 94th species.
The new species is also called Rashid's dwarf gecko, as it is the smallest among the genus.
It is approximately two inches long from its snout to the
It was found at an altitude of 1,245 metres at the Kottamalai estate near Rajapalayam.
It displayed a combination of beautiful colour patterns of yellow, white and black adorning its back, making it stand out among its gecko relatives.
It is endemic to the Western Ghats.
Western Ghats is also called Sahyadri, north–south-running range of mountains in western India.
It forms the crest of the western edge of the Deccan plateauparallel to the Malabar Coast of the Arabian Sea.