Colombo Security Conclave: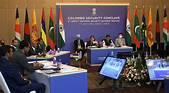 The sixth Deputy National Advisers' meeting of the Colombo Security Conclave held recently resolved to combat jointly the increasing threats related to maritime safety, terrorism, trafficking and organised crime affecting partner nations.
A road map for cooperation was discussed at the meeting attended by India, the Maldives, Mauritius, and Sri Lanka.
Representatives of Bangladesh and the Seychelles — the two observer nations in the conclave — also shared their views on the occasion.
The five broad areas of cooperation to strengthen regional security are –

maritime safety and security,
countering terrorism and radicalisation,
combating trafficking and transnational organised crime,
cyber security and protection of critical infrastructure and technology, and
humanitarian assistance and disaster relief.