New Sherpa Of G-20: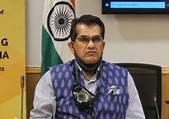 Former Niti Aayog CEO Amitabh Kant will be the new Sherpa of G-20.
Commerce minister Piyush Goel will give up the position as Sherpa of G-20.
With the G-20 presidency coming to India, a full-time Sherpa is required who would be needed to devote a lot of time to meetings that will be held in different parts of the country
A Sherpa is a personal representative of the leader of a member country at an international Summit meeting such as the G8, G20, the Nuclear Security Summit etc.
The Sherpa engages in planning, negotiation and implementation tasks through the Summit.
They coordinate the agenda, seek consensus at the highest political levels, and participate in a series of pre-Summit consultations to help negotiate their leaders' positions.
Sherpas are career diplomats or senior government officials appointed by the leaders of their countries.
The term is derived from the Nepalese Sherpa people, who serve as guides for mountaineers in the Himalayas.