Integrated Child Development Scheme (ICDS) In Jharkhand: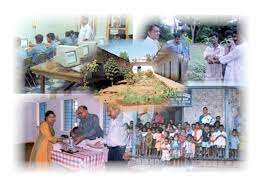 According to a recent survey, more than 55% did not receive Supplementary Nutrition under Integrated Child Development Scheme (ICDS) in Jharkhand even once in the first six months of 2021.
Vulnerability of Jharkhand:
As per National Family Health Survey-4 data, every second child in the state is stunted and underweight and every third child is affected by stunting and every 10th child is affected from severe wasting and around 70% children are anemic.
ICDS:
The Umbrella Integrated Child Development Services (ICDS) is a centrally sponsored scheme implemented by the Ministry of Women and Child Development. It was launched in 1975.
Six Schemes under Umbrella ICDS:
Anganwadi Services Scheme
Pradhan Mantri Matru Vandana Yojana:
National Creche Scheme:
Scheme for Adolescent Girls
Child Protection Schem
POSHAN Abhiyaan: