Connectivity Projects In Northeast India: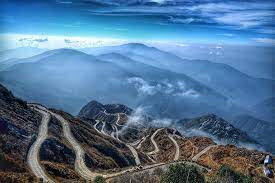 Union Finance Minister Nirmala Sitharaman said the Centre is implementing various rail, road and air connectivity projects worth ₹1,34,200 crore in Northeast India.
Addressing the "Natural Allies in Development and Interdependence (NADI)" conclave here, she said the Union government had been pumping in huge money to develop a number of infrastructure projects throughout the region.
The Centre is carrying out 20 railway projects worth ₹74,000 crore for 2,011 km, which are spread across the northeast.
The Centre is also developing 4,000 km of roads in the region at a total cost of ₹58,000 crore.
There are 15 ongoing air connectivity projects in the northeast, costing around ₹2,200 crore.
India and Bangladesh had 50 riverine systems which could be leveraged for all types of transportation as the cost of travel through water was the least when compared to air, road and rail networks.
The government is further developing the National Waterways (NW)-1 on the Ganga, NW-2 on the Brahmaputra and NW-16 on the Barak.
The entire area between Sadiya and Dhubri in Assam along the Brahmaputra was being developed for better connectivity.
The Eastern Waterways Connectivity Transport Grid, once completed, will offer seamless connectivity not only between the northeast and the rest of India but also on the subcontinent.