Many Olive Ridley Turtle Found Dead In The Godavari Region: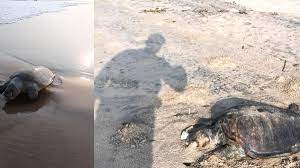 Hundreds of Olive Ridley turtles were found dead in their breeding grounds between Kakinada and Antarvedi in the Godavari region of India's east coast.
The Olive Ridley turtles are the smallest and most abundant of all sea turtles found in the world.
They are best known for their unique mass nesting called Arribada, where thousands of females come together on the same beach to lay eggs.
They are carnivores and get their name from their olive-colored carapace, which is heart-shaped and rounded.
They are mainly found in the warm waters of the Pacific, Atlantic and Indian oceans.
Odisha's Gahirmatha Marine Sanctuary is known as the world's largest rookery (a colony of breeding animals) of sea turtles.
Conservation status:

IUCN Red List:Vulnerable
Wildlife Protection Act, 1972: Schedule 1
CITES Appendix I

The initiative was taken to protect the Olive Ridley turtle
Operation Olivia: Every year, the Indian Coast Guard's "Operation Olivia", initiated in the early 1980s, helps protect Olive Ridley turtles as they congregate along the Odisha coast for breeding and nesting from November to December.