5G: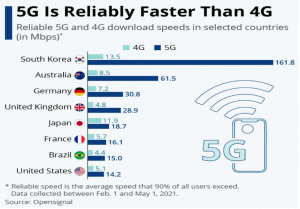 The Department of Telecommunications (DoT) said that Gurugram, Bengaluru, Kolkata, Mumbai, Chandigarh, Delhi, Jamnagar, Ahmadabad, Chennai, Hyderabad, Lucknow, Pune, and Gandhi Nagar would be among the first cities to get 5G services in 2022.
5G or fifth generation is the latest upgrade in long-term evolution (LTE) mobile broadband networks.
It mainly works in three bands — low-, mid- and high-frequency — all of which have their uses as well as limitations.
While the low-band spectrum has shown great promise in terms of coverage, the maximum Internet speed is limited to 100 Mbps (megabits per second).
The mid-band spectrum offers higher speeds than low-band, but has limitations in terms of coverage area and penetration of signals.
High-band offers the highest speed among the three, but has extremely limited coverage and signal penetration strength.