Raisina Dialogue : Global Level Think Tank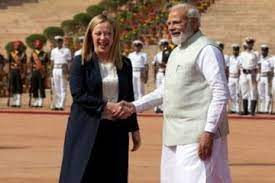 Foreign Secretary recently told a Parliament committee that the Raisina Dialogue is now among the most significant global level think tank events in the world.
Raisina Dialogue is India's premier conference on geopolitics and geoeconomics, committed to addressing the most challenging issues facing the global community.
It is modeled on the lines of the Munich Security Conference and Singapore's Shangri-La Dialogue.
It is held annually since 2016 in New Delhi.
The Dialogue is structured as a multi-stakeholder, cross-sectoral discussion involving heads of state, cabinet ministers, and local government officials, who are joined by thought leaders from the private sector, media, and academia.
It is organized by the Observer Research Foundation (ORF) in partnership with the Ministry of External Affairs, Government of India.
Observer Research Foundation (ORF) established in 1990, the ORF is an independent, nonpartisan think tank that conducts policy research on good governance, foreign policy, and sustainable economic development for India.
ORF's work spans a wide range of topics, including climate, energy, cyber issues and media, economic development, and national security.
It provides non-partisan, independent, well-researched analyses and inputs to diverse decision-makers in governments, business communities, academia, and to civil society around the world.
It seeks to lead and aid policy thinking towards building a strong and prosperous India in a fair and equitable world.