The India Cycles4Change Challenge: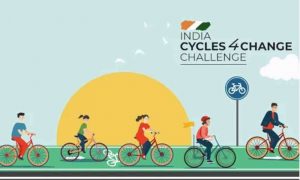 The India Cycles4Change challenge is beginning to gain momentum in Indian cities.
The challenge was launched under the Smart Cities Mission by the Ministry of Housing and Urban Affairs on 25th June, 2020, as a response to the COVID-19 pandemic.
As the COVID-19 pandemic was making inroads across the country, cycling saw a huge rise in demand.
The lockdown restrictions had significantly affected the commuters of public transport, who saw cycling as a personal and COVID-safe alternative for the short and medium-distance commute.
Moreover, cycling was also seen as a means of staying healthy- physically and mentally by the people who were confined to their homes.
Against this backdrop, with the launch of the India Cycle4Change challenge, 107 cities registered to be a part of the cycling revolution and 41 cities undertook initiatives vis. surveys, discussions, pop-up cycle lanes, safer neighborhoods, open street events, cycle rallies, or online campaigns that were aimed at creating a cycle-friendly city.
The Smart Cities Mission, in association with Institute for Transport and Development Policy (ITDP), conducted training modules and other capacity-building initiatives to guide 107 cities on various cycling initiatives.