Sariska Tiger Reserve : Relocation Of Sloth Bears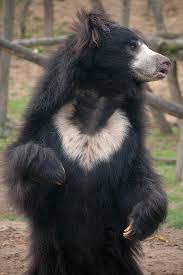 After successful reintroduction of tigers at the Sariska Tiger Reserve (STR), the forest department is planning to relocate a pair of sloth bears at the reserve.
It is located in the Aravalli hills in the Alwar district of Rajasthan
It was declared as a wildlife reserve in 1955 and then a Tiger Reserve in 1978 under Project Tiger.
It is the first reserve in the world which successfully relocated tigers.
Sariska is also famous for old temples, palaces and lakes such as Pandu Pol, Bhangarh Fort, Ajaibgarh, Pratapgarh, Siliserh Lake and Jai Samand Lake.
Flora: salar, kadaya, dhak, gol, ber , Banyan , gugal , bamboo , kair , adusta etc
Fauna: Bengal tigers, leopard, jungle cat, Indian jackal, chital, chinkara, four-horned antelope, Indian peafowl, grey partridge, Indian peafowl, Indian eagle-owl etc.
Sloth Bear:
Sloth bears are one of the eight bear species found across the world.
Scientific name: Melursus ursinus
They mainly inhabit the region of India, Nepal, Sri Lanka and Bhutan.
They have long, shaggy dark brown or black fur and curved claws, which are the longest out of any of the bear species.
Conservation Status:

IUCN: "Vulnerable"
Indian Wildlife Protection Act, 1972: Schedule 1