Deendayal Antyodaya Yojana-National Urban Livelihoods Mission : Collaborative Partnership With UNDP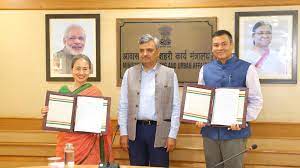 The United Nations Development Programme (UNDP) and the Deendayal Antyodaya Yojana-National Urban Livelihoods Mission (DAY-NULM) entered into a collaborative partnership.
UNDP and DAY-NULM Partnership aims to empower women to make well-informed career choices in the field of entrepreneurship.
It will provide support for women looking to start and expand their enterprises such as the care economy, digital economy, electric mobility, waste management, food packaging and more.
It Focused on fostering entrepreneurship development and accelerating enterprise growth.
It is a three-year project, extendable beyond 2025 which will cover eight cities in the initial phase.
UNDP will offer national-level capacity-building support to DAY-NULM.
This support will focus on knowledge generation and management, such as compiling compendiums of best practices related to urban poverty, to enhance the implementation of national-level schemes.
UNDP will also contribute to the initiative by developing community business mentors called Biz-Sakhis in selected project locations.
These mentors, who possess valuable business knowledge, can support new and existing enterprises, and serve as a resource for DAY-NULM at a later stage.
DAY-NULM is a flagship mission under the Union Ministry of Housing and Urban Affairs.
It has the aim to uplift the urban poor by enhancing sustainable livelihood opportunities through skill development.