INS Tarkash For Operation Kaveri: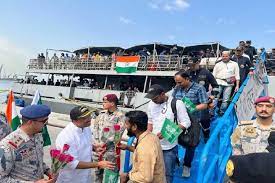 INS Tarkash from the Indian Navy recently reached Port Sudan to help in the evacuation of stranded Indians as part of "Operation Kaveri".
INS Tarkash is a state-of-the-art stealth frigate of the Indian Navy equipped with a versatile range of weapons.
Tarkash belongs to the Talwar class of guided missile frigates. These are modified Krivak III class frigates built by Russia.
It was built by the Yantar shipyard in Kaliningrad, Russia.
It was commissioned into Indian Navy service on 9 November 2012 at Kaliningrad and joined the Western Naval Command on 27 December 2012.
It has a length of 124.8 m, a beam of 15.2 m, and a draught of 4.2 m (13 ft 9 in).
Top Speed: 32 knots (59 km/h; 37 mph).
It has been equipped with a weapon sensor that enables it to address threats in all dimensions.
It uses stealth technologies and a special hull design to ensure a reduced radar cross-section.
It can board one Ka-28 Helix-A antisubmarine helicopter or one Ka-31 Helix-B airborne early warning helicopter,
It is also equipped with BrahMos missiles instead of the Klub-N missiles, which makes it different from the earlier flight of Talwar-class ships.
Operation Kaveri: It is a rescue operation being carried out by the Indian Government to bring back Indian citizens stranded in Sudan.