Holy Relics Of Lord Buddha: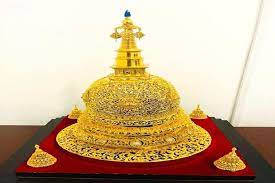 Four Holy Relics of Lord Buddha are being taken from India to Mongolia for an 11-day exposition to coincide with Mongolian Buddha Purnima celebrations.
These relics are to be displayed at the Batsagaan Temple in Gandan Monastery complex in Ulaanbaatar.
The four relics come from among 22 Buddha relics, currently housed at Delhi's National Museum.
Together, they are known as the 'Kapilvastu Relics' since they are from a site in Bihar believed to be the ancient city of Kapilvastu.
The site was discovered in 1898.
Relics are sacred objects associated with holy individuals.
They may be literal body parts (teeth, hair, bones) or objects which the holy person used or touched.
In many traditions, relics are believed to have special powers to heal, grant favors, or exorcise demons.