Divya Kala Shakti Program: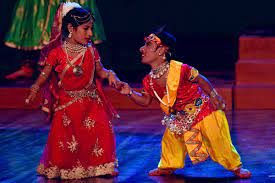 The 'Divya Kala Shakti' Program was inaugurated at the Rudraksha Convention & Cultural Centre in Varanasi.
Divya Kala Shakti is a Cultural Program by Children &Youth with Disabilities.
Divya Kala Shakti' programme was organized in various parts of the country since 2019, at the national level and in other regions of the country.
Divya Kala Shakti aims at developing confidence among the persons with disabilities and appreciated the efforts of their hard work of parents and teachers.
The Ministry of Social Justice and Empowerment, is entrusted with organizing the Divya Kala Shakti.
This time, the sixth DIVYA KALA SHAKTI program was organized in the city of Varanasi, where approximately 100 artists from six states, namely West Bengal, Odisha, Jharkhand, Bihar, Uttar Pradesh, and Uttarakhand, performed in the program.