Typhoon Rai: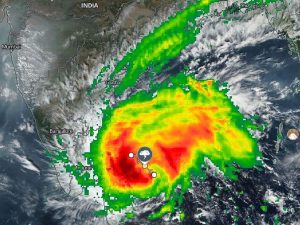 The official death toll of Typhoon Rai (locally named Odette) which hit parts of the Philippines in mid-December, was raised to 388.
Rai is the strongest storm to hit the disaster-prone archipelago this year (2021).
Typhoons are a kind of storm. The storms, depending on where they occur, may be called hurricanes, typhoons or cyclones.
Typhoons: In the China Sea and Pacific Ocean.
Hurricanes: In the West Indian islands in the Caribbean Sea and Atlantic Ocean.
Tornados: In the Guinea lands of West Africa and southern USA.
Willy-willies: In north-western Australia and
Tropical Cyclones: In the Indian Ocean Region.
The scientific name for all these kinds of storms is tropical cyclones.
Tropical cyclones are intense circular storms that originate over the warm tropical oceans with speed more than 119 kilometres per hour and heavy rains.
Tropical cyclones rotate counterclockwise in the Northern Hemisphere.
The Regional Specialized Meteorological Centre (RSMC) Tokyo – Typhoon Centre assigns a typhoon a name. The name 'Rai' is contributed by Micronesia.