Dnieper River: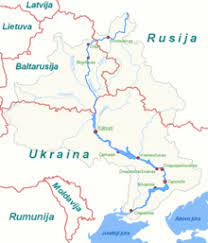 Russia's military recently said that its forces had thwarted a Ukrainian attempt to forge a bridgehead on the eastern bank of the Dnieper River.
Dnieper River is the fourth-longest river in Europe (after the Volga, the Danube, and the Ural).
In Russian, the river's name is Dnepr. In Ukrainian, it is Dnipro, and in Belarusian, it is Dnyapro.
Located in Eastern Europe, the Dnieper River and its tributaries drain much of Belarus and Ukraine.
Historically, the river was an important barrier dividing Ukraine into right and left banks.
It originates in Russia, in the low Valday Hills west of Moscow.
It runs a total length of 1,368 miles through western Russia, Belarus, and Ukraine before emptying into the Black Sea.
Approximately 300 miles of the waterway is located in Russia, 430 miles are in Belarus, and 680 miles are within Ukraine.
It passes through numerous urban centers such as the Russian cities of Smolensk and Dorogobuzh, as well as Mogilev in Belarus and Kiev, Cherkasy, Dnipro, and Zaporizhia in Ukraine.
It has as many as 32,000 tributaries, including the Sozh, Desna, Trubizh, Bilozerka, Drut, Berezina, and Prypiat Rivers.