Gecko : New Species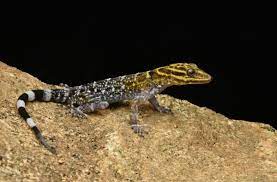 A team of scientists and researchers have discovered a new species of gecko endemic to Mizoram.
New Gecko species has been named 'Cyrtodactylus vairengtensis' after the town in Mizoram where it was found.
The common name suggested for the new species is 'Vairengte bent-toed gecko'.
The distinct feature of this new species is the number of femoral pores which distinguishes it from other members of the Cyrtodactylus family.
Femoral pores are located on the underside of the hind legs in lizards that secrete a mixture of lipids and proteins and are thought to be used to attract mates and mark territories.
It is endemic to Mizoram, taking the number of geckos native to the state to 6, and 22 across northeast India.
There are 335 gecko species across the world, of which 42 are found in India.
Gecko:
These are reptiles and are found on all the continents except Antarctica.
These colorful lizards have adapted to habitats from rainforests, to deserts, to cold mountain slopes.
These are mostly small, usually nocturnal reptiles.
Geckos are spread across six families: Carphodactylidae, Diplodactylidae, Eublepharidae, Gekkonidae, Phyllodactylidae, and Sphaerodactylidae.