Dr M S Swaminathan: Passed Away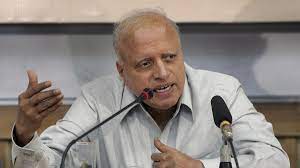 Mankombu Sambasivan Swaminathan (MS Swaminathan) (1925 to 2023) who passed away recently, played a crucial role in heralding the Green Revolution that helped India combat food insecurity.
MS Swaminathan Birth date: August 7, 1925.
Birth Place: in Kumbakonam, Tamil Nadu.
Swaminathan brought a social revolution through his policies to rescue India from famine-like circumstances in the 1960s.
He was called the 'Father of the Indian Green Revolution'.
Green Revolution a period of rapid, scientific agricultural advancement in the mid-1960s that involved growing high-yielding, disease-resistant varieties of crops, primarily in Punjab, India. Dr. Swaminathan played a key role in this movement.
These crops produce a higher yield per hectare compared to traditional variants.
They are often disease-resistant and have increased tolerance to conditions like drought. Examples include IR8 rice and Kalyan Sona wheat.
The difference between the potential maximum yield of a crop and the actual realized yield for a given area.