World Fisheries Day: 21st November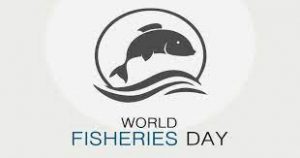 World Fisheries Day (WFD) is observed on the 21st November every year.
The award ceremony was organised by the ministry of fisheries, animal husbandry and dairying, in Bhubaneswar on the occasion of WFD.
Balasore district (Odisha) has been awarded India's "Best Marine District".
WFD is celebrated to demonstrate solidarity with all fisherfolk, fish farmers and concerned stakeholders throughout the world.
It was started in the year 1997 when "World Forum of Fish Harvesters & Fish Workers" met at New Delhi leading to formation of "World Fisheries Forum" with representatives from 18 countries and signed a declaration advocating for a global mandate of sustainable fishing practices and policies.
It is aimed at drawing attention to overfishing, habitat destruction and other serious threats to the sustainability of marine and inland resources.
In 2019-20, with an overall production of 142 lakh tons, India produced 8% of the global share.
During the same time period, India's fisheries exports stood at Rs 46,662 crore, constituting about 18% of India's agricultural exports.
India aims to achieve a target of producing 22 million metric tonnes of fish by 2024-25.
The fisheries sector has witnessed three major transformations in the last few years:
The growth of inland aquaculture, specifically freshwater aquaculture.
The mechanization of capture fisheries.
The successful commencement of brackish water shrimp aquaculture.
As compared to last year there has been a 34% increase in the budget for the fisheries sector in 2021-22.