Earthquakes In Turkey And Causes: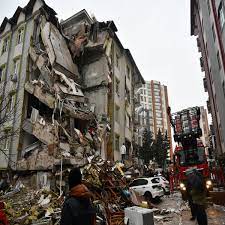 Strongest earthquake to shake the region in more than 100 years and has killed at least 1,300 people across Turkey and Syria.
Three earthquake measuring  7.8, 7.6, and 6.0 magnitude on the Richter scale has devastated Turkey and Syria, while the impacting regions as far away as Cyprus (456 km away), Lebanon (874 km), Israel (1,381 km) and Egypt (1,411 km).
The tremors of the first quake were felt on February 6 around 4 a.m., with the epicentre located near the city of Gaziantep in south-central Turkey, which houses more than two million people
This is the strongest earthquake to shake the region in more than 100 years and has killed at least 3,800 people across Turkey and Syria as of Tuesday morning, according to officials
The quake's focus was 18 km deep, according to the U.S. Geological Survey.
The epicentre was about 33 km from Gaziantep.
Turkey is frequently shaken by earthquakes. In 2020 itself, it recorded almost 33,000 earthquakes in the region, according to Disaster and Emergency Management Authority (AFAD).
Reason:
Turkey's proneness to earthquakes comes from its tectonic location.
The Earth's outermost layer comprises of some 15 major slabs, called tectonic plates.
The boundaries between these plates are a system of faults fractures between two blocks of rocks.
Any sudden movement along these faults can cause earthquakes, according to the British Archaeological Survey.
Turkey is located on the Anatolian tectonic plate, which is wedged between the Eurasian and African plates.
On the north side, the minor Arabian plate further restricts movement.
One fault line the North Anatolian fault (NAF) line, the meeting point of the Eurasian and Anatolian tectonic plates is known to be "particularly devastating".
The NAF, one of the best-understood fault systems in the world, stretches from the south of Istanbul to northeastern
Turkey, and has caused catastrophic earthquakes in the past.
Then there is the East Anatolian fault line, the tectonic boundary between the Anatolian Plate and the northward-moving Arabian Plate.
It runs 650 kilometers from eastern Turkey and into the Mediterranean.
In addition to this, the Aegean Sea Plate, located in the eastern Mediterranean Sea under southern Greece and western Turkey, is also a source of seismic activity in the region.