Chess Olympiad 2022: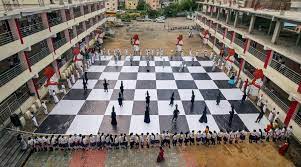 With 8 wins in a row at the Chess Olympiad 2022, Dommaraju Gukesh became the new poster boy for Indian chess.
In 2019, he became the youngest Indian and then-second-youngest Grandmaster ever (youngest – Abhimanyu Mishra).
Recently at the age of 16 he won gold at the Chess Olympiad.
Gukesh won the Under-9 category of the Asian School Chess Championships in 2015 and won 5 gold medals at the 2018 Asian Youth Chess Championships (Under-12).
44th Chess Olympiad was held in Chennai in 2022
The prestigious competition, which has been organized since 1927,was hosted in India for the first time and in Asia after 30 years.
With 189 countries participating, this became largest participation in any Chess Olympiad.