What Is One Nation, One Election?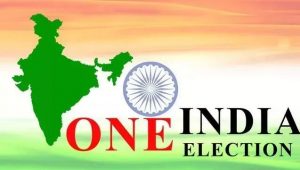 Chief Election Commissioner Sushil Chandra has said that the Election Commission is ready to hold simultaneous elections or 'One Nation, One Election'.
Earlier this year, on National Voters' Day, Prime Minister Narendra Modi during his address had raised the topics of 'One Nation, One Election' and 'One Nation, One Voters' list', and had said that the continuous cycle of election results is affecting development works.
One Nation, One Election refers to holding elections to Lok Sabha, State Legislative Assemblies, Panchayats and Urban local bodies simultaneously, once in five year.
Benefits of Simultaneous Elections:
The ruling parties will be able to focus on legislation and governance rather than having to be in campaign mode forever.
Reduced Expenditure of Money and Administration.
Continuity in policies and programmes.
Populist measures by governments will reduce.
The impact of black money on the voters will be reduced as all elections are held at a time.