Electoral Bonds: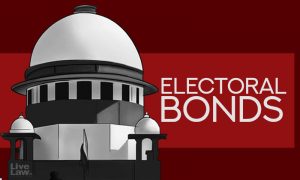 Supreme Court of India, on March 26, 2021, refused to stay the sale of a fresh set of electoral bonds from 1 April.
Supreme Court, while refusing the stay, underlines that these bonds were allowed to be released in 2018 and 2019 without any interruption.
There exists no justification to stay these bonds as sufficient safeguards are there. Apex Court also highlighted that; electoral bonds not only benefit the ruling party.
Supreme Court Bench; comprising of Chief Justice of India, SA Bobde, Justices AS Bopanna, and V Ramasubramanian; was hearing the plea filed by NGO Association for Democratic Reforms (ADR) which was asking to stay the electoral bonds ahead of assembly polls.
NGO claimed that any further sale of electoral bonds ahead of upcoming assembly polls in Assam, West Bengal, Tamil Nadu, Kerala, and Puducherry will increase illegal and illicit funding for political parties through shell companies.
Electoral Bond:
Electoral Bond is a financial instrument for making donations to political parties.
The bonds are issued in multiples of Rs. 1,000, Rs. 10,000, Rs. 1 lakh, Rs. 10 lakh, and Rs. 1 crore without any maximum limit.
State Bank of India is authorized to issue and encash these bonds, which are valid for fifteen days from the date of issuance.
These bonds are redeemable in the designated account of a registered political party.
The bonds are available for purchase by any person (who is a citizen of India or incorporated or established in India) for a period of ten days each in the months of January, April, July, and October as may be specified by the Central Government.
A person being an individual can buy bonds, either singly or jointly with other individuals.
The donor's name is not mentioned on the bond.