Electoral Bonds: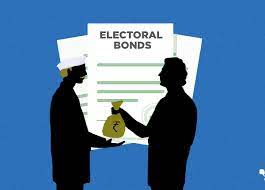 The State Bank of India (SBI) shared data reporting that Donations to political parties through electoral bonds (EBs) have crossed the Rs 10,000-crore mark.
In the 21st sale of EBs conducted in July 2022, parties received another Rs 389.5 crore from EB purchases.
The total amount collected by parties has gone up to Rs 10,246 crore since 2018 when the EB scheme was introduced.
Electoral Bonds:
State Bank of India is authorised to issue and encash these bonds.
Electoral bonds are purchased anonymously by donors and are valid for 15 days from the date of issue.
As debt instruments, these can be bought by donors from a bank, and the political party can then encash them.
These can be redeemed only by an eligible party by depositing the same in its designated account maintained with a bank.
The bonds are issued by SBI in denominations of Rs 1,000, Rs 10,000, Rs 1 lakh, Rs 10 lakh and Rs 1 crore.
The bonds are available for purchase by any citizen of India for a period of ten days each in the months of January, April, July and October as may be specified by the Central Government.
Eligibility:
Only the political parties registered under Section 29A of the Representation of the People Act, 1951 and have secured not less than 1% of the votes polled in the last general election to the House of the People or the Legislative Assembly, are eligible to receive electoral bonds.