Miguel Diaz-Canel: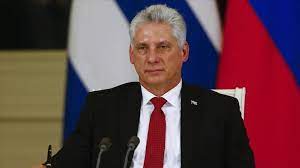 Cuba marked the end of an era with the transfer of power from the Castro clan, in charge for six decades, to the communist country's first-ever civilian leader, Miguel Diaz-Canel.
As Raul Castro, 89, enters retirement, he handed the all-powerful position of the first secretary of the Communist Party of Cuba to Mr. Diaz-Canel, 60, already Cuba's president.
Miguel Díaz-Canel is a Cuban politician serving as the president of Cuba since 2019 and the first secretary of the Communist Party, the most senior position in Cuba, since 2021.
His two predecessors in the role were brothers, by blood, and notably, his succession from Raúl Castro represents a clearly non-dynastic form of succession for the Communist Party as well as the Republic of Cuba.
Díaz-Canel is, therefore, the first president to not be a Castro family member since Osvaldo Dorticós in 1976 and the first leader of the government who is not a Castro since José Miró Cardona in 1959.