Electoral Bonds: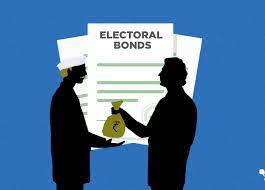 The Union government recently told the Supreme Court that the procedure for funding political parties under the Electoral Bond Scheme-2018 is "absolutely transparent".
The electoral bonds system was introduced in 2017 by way of a money bill introducing amendments in the Finance Act and the Representation of People Act.
It was implemented in 2018.
The electoral bonds are issued in multiples of Rs 1,000, Rs 10,000, Rs 1 lakh, Rs 10 lakh and Rs 1 crore.
State Bank of India is the only bank authorised to sell electoral bonds.
Buyers can donate the bonds to a party of their choice and the bonds have to be cashed by the party through its verified account within 15 days.
No payment shall be made to any political party if the electoral bond is deposited after expiry of the validity period of 15 days.
Eligible political parties are allotted a verified account by the Election Commission of India (ECI) and the electoral bond transactions can be made only through this account.
Buyers of the bonds have to submit full KYC details at the time of buying.
However, the beneficiary political party is not required to reveal the identity of the entity that has given it the bonds.