Enterprise India National Coir Conclave 2022 : Tamil Nadu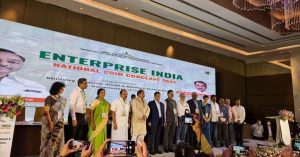 The Ministry of Micro, Small and Medium Enterprises inaugurated the 'Enterprise India National Coir Conclave 2022' at Coimbatore, Tamil Nadu.
The event is being organized with the idea of bringing about a co-ordinated effort between the State and Central Governments to promote production of coir and coir products and to identify new areas of application of coir.
A 'Run for Coir' is also being organized on 6th may, 2022 to promote the use of coir, as a natural, degradable, eco-friendly product.
More than a thousand people, including dignitaries, college students and the general public are expected to participate in the run.
Coir:
It is a material found in nature; a hearty byproduct of coconuts produced in abundance by coconut palms.
It is the naturally occurring fibrous material found on the outside of coconut husks that is naturally processed for use.
Coir Board was set up under the Coir Industry Act, 1953 by the Government of India for the overall sustainable development of coir industry in the Country.
The functions of the Board are undertaking, assisting and encouraging scientific, technological and economic research, modernization, quality improvement, human resource development, market promotion and welfare of all those who are engaged in this industry.
The functions mandated under the Coir Industry Act are carried out by Coir Board under the various Schemes/Programmes, including research and development activities, training programmes, extending financial support for setting up of coir units, domestic as well as export market development, welfare measures to the workers etc.