Waterways Conclave 2022: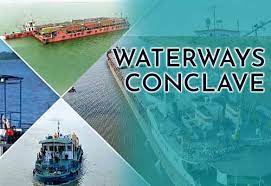 The Waterways Conclave 2022 was organized by the Inland Waterways Authority of India (IWAI) on 11th and 12th April 2022 in Dibrugarh, Assam.
The aim of this conclave was to focus on harnessing the potential of the international and domestic waterway ecosystem in the country's North-eastern region.
The industry partner of this conclave was the Federation of Indian Chambers of Commerce & Industry (FICCI).
The conclave was launched by Sarbananda Sonowal, Minister of Ports, Shipping and Waterways and AYUSH.
The conclave was attended by various stakeholders in the sector of the waterway ecosystem like Senior Government Officials, Policy Planners, Sector Experts, Domestic and International Investors, Infrastructure players, Cruise Tourism industry, Vessel Owners and Operators, Representatives of Major Ports, Cargo Passengers, and representatives from the Governments of Maritime States in India.
The aim of this conclave is to fast-track the Multimodal projects for the development of the country's Northeast region so that business opportunities, economic activities, and employment generation can be enhanced.