Eravikulam National Park : Birth Of Two Nilgiri tahr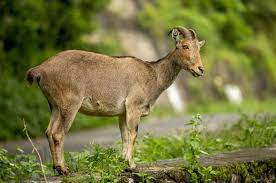 Eravikulam National Park (ENP), a natural habitat for the endangered Nilgiri tahr, reported two tahr births recently.
Eravikulam National Park is Located In Kerala
It was declared as a National Park in 1978.
This is also the land of "Neelakurinji", the flower that blooms once in twelve years.
The highest peak south of the Himalayas – The Anamudi (2695 meters) is situated in this park.
Important flora includes Actinodaphne bourdilloni, Microtropis ramiflora, Pittosporum tetraspermium, Eupatorium adenophorum, Strobilanthus Kunthianus (Neela Kurinji)
29 Species of mammals are found here of which 5 are endemic to the Western Ghats.
The Nilgiri Tahr, Gaur, Sloth Bear, Nilgiri Langur, Tiger, Leopard, Giant Squirrel and wild dog are common.
Half the world population of the endangered Nilgiri Tahr lives here.
Nilgiri Tahr:
It is a sure-footed ungulate that is endemic to the southern part of Western Ghats.
Scientific name: Nilgiritragus hylocrius
It is also the state animal of Tamil Nadu.
Conservation Status:

IUCN: "Endangered"
Wildlife (Protection) Act of India, 1972 : Schedule 1