JJM Hit 51% Completion Of The Project: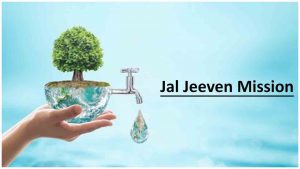 JJM hit 51% completion of the project. From less than 17% of households with a running tap water connection, JJM has enabled reach to more than 34% now in less than 3 years.
About 1.4 million soak beds have been constructed in schools and anganwadis to use recycled water in tap connections.
Only after the formal resolution by the gram panchayat, with a video recording of the session which has to be uploaded on the portal, can they be counted as a village with Har Ghar Jal.
Three states have declared that they have completed the project: Haryana, Telangana and Goa.
But there is substantial progress in Punjab, Gujarat and Bihar, which, although it started a year late, has progressed quickly in providing tap water supplies to rural households.
Jal Jeevan Mission:
JJM envisages a supply of 55 litres of water per person per day to every rural household through Functional Household Tap Connections (FHTC) by 2024.
It is under the Ministry of Jal Shakti.
It was launched in 2019.
Funding is demand-driven.
The mission is very strongly focused on Jan bhagidari, or community engagement which is seen as a very important pillar of the project.