Exercise Khaan Quest 2023: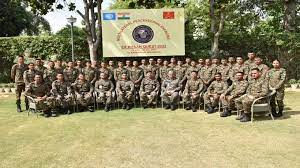 The multinational Peacekeeping Joint Exercise "Ex Khaan Quest 2023" commenced in Mongolia.
Exercise Khaan Quest 2023features participation from military contingents and observers from over 20 countries.
The exercise is co-sponsored by Mongolian Armed Forces (MAF) and the United States Army Pacific Command (USARPAC).
The Indian Army is represented by a contingent from the GARHWAL RIFLES.
The 14-day exercise is aimed at enhancing the interoperability of the participating nations, sharing experience and training uniformed personnel for the United Nations Peacekeeping Operations (UNPKO).
The exercise will prepare participants for future UN Peacekeeping missions, develop peace operations capabilities and enhance military readiness.
The exercise includes Command Post Exercise (CPX), Field Training Exercises (FTX), combat discussions, lectures and demonstrations.
UN peacekeepers provide security and political peace-building support to help countries make the difficult, early transition from conflict to peace.
UN Peacekeeping is guided by three basic principles:

Consent of the parties
Impartiality
Non-use of force except in self-defence and defence of the mandate.