Global Water Resources Report 2021: WMO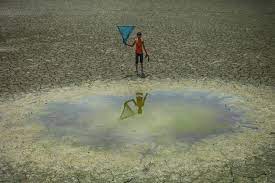 WMO (World Meteorological Organization) has released its first annual State of Global Water Resources Report 2021.
The aim of this annual report is to support monitoring and management of global freshwater resources in an era of growing demand and limited supplies.
The report focuses on three major areas:

Streamflow, the volume of water flowing through a river channel at any given time.
Terrestrial water storage (TWS) — all water on the land surface and in the sub-surface.
The cryosphere (frozen water).
Findings of the Report:
Between 2001 and 2018, UN-Water reported that a staggering 74% of all natural disasters were water-related.
The recent UN climate change conference, COP27, in Egypt, urged governments to further integrate water into adaptation efforts, the first-time water has been referenced in a COP outcome document in recognition of its critical importance.
3.6 billion people have inadequate access to water at least one month per year and this is expected to increase to more than five billion by 2050.
Large areas of the globe recorded drier-than-normal conditions in 2021, which was a year in which precipitation patterns were influenced by climate change and a La Niña event.
The area with below-average streamflow was approximately two times larger than the above-average area, in comparison to the 30-year hydrological average.