Exercise Naseem Al Bahr 2022: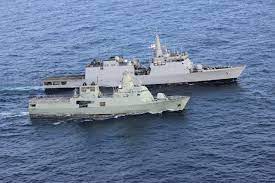 The Indian Navy's guided missile stealth frigate, INS Trikand, offshore patrol vessel, INS Sumitra, and Maritime Patrol Aircraft -Dornier, participated in the 13th Edition of the Indian Navy (IN) – Royal Navy of Oman (RNO) bilateral exercise 'Naseem Al Bahr' (Sea Breeze).
Ex-Naseem Al Bahr initiated in 1993, symbolises the long term strategic relationship between the two countries.
This year marks 30 years of IN-RNO bilateral exercises.
Oman is the first country in the Gulf Cooperation Council (GCC) which has been in conducting bilateral exercises with India jointly.
Both countries already have Memorandums of Understanding (MoUs) including on defence cooperation, between the Coast Guards to prevent crime at sea, on maritime issues and a protocol between their respective air forces on Flight Safety Information Exchange.