Exercise Zayed Talwar: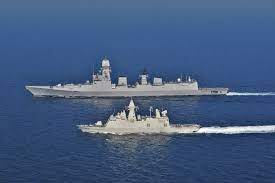 Indian Navy and United Arab Emirates to conduct bilateral exercise 'Zayed Talwar from 8th to 11 August 2023.
Two ships of the Indian Navy, INS Visakhapatnam, and INS Trikand are participating in the exercise.
During the visit, the ships will undertake professional interactions with UAE Naval Force on multiple elements of maritime operations.
They will further share best practices to enhance cooperation and strengthen ties between the two navies.
This exercise will boost the maritime partnership between the two navies and foster a common understanding of the security challenges in the region.
INS Visakhapatnam:
It is the lead ship and the first of the Indian Navy's Visakhapatnam-class stealth guided-missile destroyers.
It was commissioned on November 21, 2021, is one of the largest destroyers in Indian Navy service.
Features:

Displacement: 7,400 tonnes.
Propulsion: It is propelled by four powerful Gas Turbines, in a Combined Gas and Gas (COGAG) configuration.
Speed: It is capable of achieving speeds in excess of 30 knots.