Kati Bihu: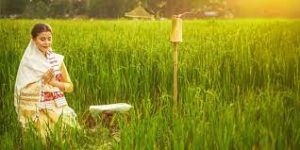 The Prime Minister of India extended best wishes on the auspicious occasion of Kati Bihu to the people of Assam.
Kati Bihu is celebrated in the state of Assam.
Kati means to cut and this day marks the time of relocation of rice saplings.
It is also known as Kongali Bihu.
There are another two Bihu festivals celebrated in Assam – Bhogali or Magh Bihu is observed in January and Rongali or Bohag Bihu is observed in the month of April.
During this month, there are not so many things to eat.
They celebrate this festival by lighting the earthen lamps or candles and lit their house with lighting.
Lighting diya near Tulsi plant is one of the main part of the festival. They worship Tulsi plant on this auspicious day.
People also light a special lamp called "Akash Banti" (Sky candle) in their paddy fields.