Falkland Islands: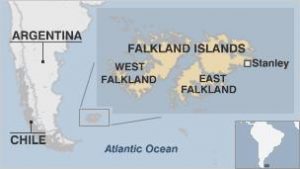 India extended support to Argentina's campaign to restart international negotiation on the Falklands Territorial Issue.
Falkland Islands, also called Malvinas Islands or Spanish Islas Malvinas, internally self-governing overseas territory of the United Kingdom in the South Atlantic Ocean.
It lies about 300 miles northeast of the southern tip of South America and a similar distance east of the Strait of Magellan.
The capital and major town is Stanley, on East Falkland, there are also several scattered small settlements as well as a Royal Air Force base that is located at Mount Pleasant.
The two main islands, East Falkland and West Falkland, and about 200 smaller islands.
The government of the Falkland Islands also administers the British overseas territory of South Georgia and the South Sandwich Islands, including the Shag and Clerke rocks.
Argentina based its claim to the Falklands based on an official document of 1493 modified by the Treaty of Tordesillas (1494), by which Spain and Portugal had divided the New World between themselves, on succession from Spain, on the islands' proximity to South America, and on the need to end a colonial situation.
Britain based its claim on its "open, continuous, effective possession, occupation, and administration" of the islands since 1833 and its determination to apply to the Falklanders the principle of self-determination as recognized in the United Nations Charter.
Britain asserted that, far from ending a colonial situation, Argentine rule and control of the lives of the Falklanders against their wishes would in fact create one.