FIDE Chess World Cup 2023: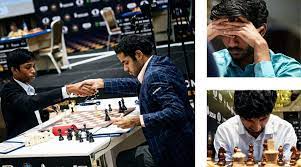 Magnus Carlsen of Norway beat India's R. Praggnanandhaa in tie-breaks to win the title of the FIDE Chess World Cup 2023 held recently.
FIDE Chess World Cup 2023:-
Venue: Baku, Azerbaijan.
Date: from 29 July to 25 August,2023.
Governing body: International Chess Federation (FIDE).
FIDE Global Strategy Commission (hereinafter referred to as GSC) is in charge of preparing Regulations, communicating with the participants and the Organizer, and conducting inspections.
The body responsible for adopting and changing these Regulations is the FIDE Council (upon GSC's recommendations).
Participation: 206 players shall take part in the World Cup.
Prize: The prize money shall be paid by direct banker's order drawn in USD.