Aadhaar-Enabled Payment System: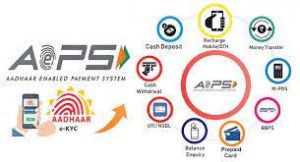 The Aadhaar-enabled Payment System (AePS) in India has recently faced exploitation by cybercriminals, leading to unauthorized access to users' bank accounts.
Scammers have been using leaked biometric details to bypass the need for One Time Passwords (OTPs) and drain funds from unsuspecting victims.
A series of recent scams have exposed the vulnerabilities of the AePS and how cybercriminals are exploiting the loopholes in the system to defraud unsuspecting customers.
The AePS is a bank-led model that allows online interoperable financial transactions at Point of Sale (PoS) or micro-ATMs through the Business Correspondent (BC) of any bank using the Aadhaar authentication.
It was taken up by the National Payments Corporation of India (NPCI) – a joint initiative of Reserve Bank of India (RBI) and Indian Banks' Association (IBA).
The AePS is meant to provide easy and secure access to banking services for the poor and marginalized sections of society, especially in rural and remote areas.
It eliminates the need for OTPs, bank account details, and other financial information.
Transactions can be carried out with only the bank name, Aadhaar number, and captured fingerprint during Aadhaar enrollment.