Chess World Cup 2023: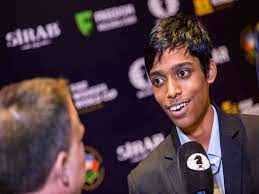 Grandmaster Rameshbabu Praggnanandhaa wins over World No. 3 Fabiano Caruana in the tie-breaker round of the World Cup 2023, chess tournament at Baku, Azerbaijan.
Praggnanandhaa, the youngest Indian grandmaster and the youngest international master is among the most promising talents in the world of chess.
He achieved significant victories such as winning the World Youth Chess Championship (under-18) in 2019 and emerging victorious in the Asian Continental Chess Championship (open) in 2021.
The World Cup 2023 is organised by the International Chess Federation (FIDE), the governing body of chess in the world.
It's constituted as a non-governmental institution.
FIDE currently has its headquarters in Lausanne (Switzerland), but it was initially founded in 1924 in Paris under the motto "Gens Una Sumus" (Latin for "We are one Family").