Fincluvation: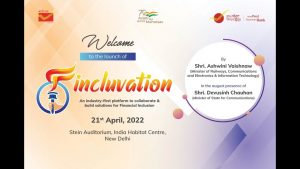 India Post Payments Bank (IPPB), a 100% government owned entity under Department of Posts (DoP) announced the launch of Fincluvation– a joint initiative to collaborate with Fintech Startup community to co-create and innovate solutions for financial inclusion.
Fincluvation is an Industry first initiative to create a powerful platform to mobilize the start-up community towards building meaningful financial products aimed at financial inclusion.
Fincluvation will be a permanent platform of IPPB to co-create inclusive financial solutions with participating start-ups.
India Post Payments Bank (IPPB) has been established under the Department of Posts, Ministry of Communication with 100% equity owned by Government of India.
IPPB was launched by the Prime Minister Shri Narendra Modi on September 1, 2018.