First State To Use Robotics Technology For Cleaning Manhole : Kerala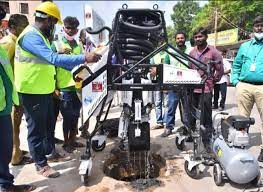 Kerala became the first state in the country to use robotics technology for cleaning all its commissioned manholes by pressing into service the robotic scavenger Bandicoot in the temple town of Guruvayur.
Bandicoot Robot is the world's first robotic scavenger i.e indigenously made by Kerala-based Genrobotics.
Genrobotics, a Technopark-based company, have developed "the world's first robotic scavenger" Bandicoot in an effort to eliminate manual scavenging providing respite for workers engaged in manhole cleaning.
It recently bagged the 'Kerala Pride' award.
Water Resources Minister, Roshi Augustine, launched Bandicoot under the Guruvayur Sewerage Project in Thrissur district by the Kerala Water Authority (KWA), as part of the 100-day action plan of the state government.
Under the Prohibition of Employment as Manual Scavengers and their Rehabilitation Act (PEMSR), 2013, Manual scavenging is banned in India.
National Action for Mechanised Sanitation Ecosystem (NAMASTE) is an initiative by MoSJ&E and MoHUA.