Solid-State Batteries: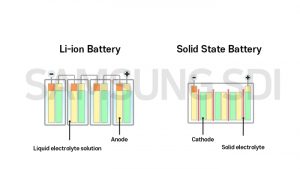 Shareholders of California-based QuantumScape Corp, a battery startup backed by Volkswagen AG, have approved a multibillion-dollar pay package for Chief Executive Officer Jagdeep Singh, subject to the company meeting some performance milestones.
QuantumScape's solid-state battery — lithium metal with a solid electrolyte separating the two electrodes — is seen as an exceptionally bright prospect in an increasingly crowded space.
QuantumScape says its solid-state lithium-metal battery replaces the polymer separator used in conventional lithium-ion batteries with a solid-state separator.
The lithium metal anode is more energy-dense than conventional anodes, which allows the battery to store more energy in the same volume, according to the company.
The advantages of the solid-state battery technology include higher cell energy density (by eliminating the carbon anode), lower charge time (by eliminating the need to have lithium diffuse into the carbon particles in conventional lithium-ion cells), ability to undertake more charging cycles and thereby a longer life, and improved safety.