Autonomous District Council: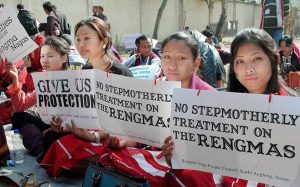 The Rengma Nagas in Assam has written to Union Home Minister Amit Shah demanding an autonomous district council amid a decision by the Central and the State governments to upgrade the Karbi Anglong Autonomous Council (KAAC) into a territorial council.
With the Assam government on verge of inking a peace Accord with KarbiAnglong based militant outfits, NSCN-IM stated any agreement that victimizes the Rengma Nagas would not be acceptable.
The issue in focus is Karbi Anglong, erstwhile known as Rengma Hills. Rengma Hills are made the victims of the aggressive influx of outsiders for vested interests.
The Rengma Hills was partitioned in 1963 between Assam and Nagaland at the time of the creation of Nagaland State.
As per the Sixth Schedule, the four states viz Assam, Meghalaya, Tripura, and Mizoram contain the Tribal Areas which are technically different from the Scheduled Areas.
Though these areas fall within the executive authority of the state, provision has been made for the creation of the District Councils and regional councils for the exercise of certain legislative and judicial powers.
Each district is an autonomous district and Governor can modify/divide the boundaries of the said Tribal areas by notification.