Floodwatch : Mobile App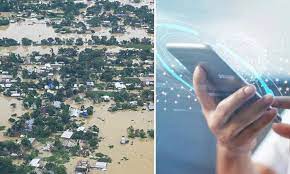 The Central Water Commission launched Mobile App 'Floodwatch'.
Floodwatch:-
Launched: 2023.
Launched by: Central Water Commission (CWC).
Objectives: using mobile phones to disseminate information related to the flood situation and forecasts up to 7 days on a real-time basis to the public.
CWC :
Establishment ministry: Ministry of Jal Shakti.
Head: chairman, with the status of Ex-Officio Secretary to the Government of India.
Headquarters: New Delhi.
It is an attached office of the Ministry of Jal Shakti, Department of Water Resources, River Development, and Ganga Rejuvenation.
It is entrusted with the general responsibilities of initiating, coordinating, and furthering in consultation with the State Governments concerned, schemes for control, conservation, and utilization of water resources throughout the country.
It also undertakes the investigations, construction, and execution of any such schemes as required.