White Flag Campaign: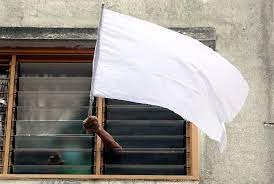 In Malaysia, some residents of low-income families have started waving white flags as part of the so-called "White Flag Campaign", or the #benderaputi (white flag) movement.
They are doing this to convey distress about the financial crunch they have had to deal with amid the lockdowns due to Covid-19. Malaysia enforced another lockdown on June 1 in order to control another surge of Covid infections.
As part of the movement that was initiated last week, families that are facing hunger or need any other kind of assistance are encouraged to wave a white flag or put a piece of white cloth outside their homes to signal that they need help.
The idea is that by spotting the white flag, neighbours and good samaritans can reach them.
Black flag movement:
Alongside the white flag movement, there is the black flag movement as well, in order to express dissatisfaction with the Malaysian government.
Specifically, this movement is demanding that Prime Minister Muhyiddin Yassin resign.