India-Sri Lanka Maritime Deal: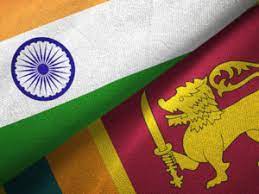 India and Sri Lanka signed a Memorandum of Understanding so that a Maritime Rescue Co-ordination Centre (MRCC) can be set up by Bharat Electronics Ltd (BEL) in Colombo.
This MoU was signed during the visit of S Jaishankar, India's External Affairs Minister to Colombo.
Since 23rd March, a team of the Indian Navy has been training the Navy and Air Force of Sri Lanka in helicopter operations.
The Sri Lankan pilots are also being familiarised with the Advanced Light Helicopter of India.
The navies of both the countries also conducted a joint exercise near Colombo. In this exercise, INS Sharda and Sri Lankan OPV Sayurala took part.
This agreement is important for both nations as it will enhance the maritime security cooperation in the region of a part of the Indian Ocean where the rivalry between India and China has taken a centre stage. Recently, India has provided two Dornier aircraft to the Sri Lankan Air Force and a naval floating dock to the Sri Lankan Navy.
Maritime Rescue Co-ordination Centre (MRCC) form a part of an international network that falls under the ambit of the UN's International Maritime Organisation.
The MRCCs monitor the sea lanes and provide quick responses to various emergencies, like vessels in distress, prevention and containing environmental disasters like oil spills, and rescue and evacuation of people.
The Search and Rescue Region (SRR) is the responsibility of each country.
The MRCCs work is coordinated with the Coast Guard or the Navy of each country and in India, the coordinating agency is the Coast Guard while in Sri Lanka, the Navy plays this role.