Food Inflation: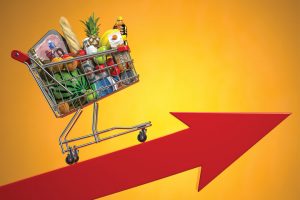 Food prices around the world have soared to record levels this year as the Russia-Ukraine war slashes key exports of wheat and fertiliser from those countries, at the same time as droughts, floods and heat fuelled by climate change claim more harvests.
The Food and Agriculture Organisation's food price index has shown a 29.8% year-on-year increase for April 2022.
Moreover, all commodity group price indices have posted huge jumps: Cereals (34.3%), vegetable oils (46.5%), dairy (23.5%), sugar (21.8%) and meat (16.8%).
Simply put, food inflation is already rising across-the-board globally — because of supply disruptions from the war, dry weather in South America, high crude prices inducing greater diversion of corn, sugar, palm and soyabean oil for bio-fuel, and so on.
Causes of Food Inflation:
Russia and Ukraine supply about 30% of global wheat exports, but those have fallen as a result of the conflict.
National stocks of wheat – mostly eaten in the countries where it is grown – remain relatively high.
But the drop in exports from Russia and Ukraine has driven up competition for the remaining wheat on the global market, leading to higher costs that are particularly painful for poorer, debt-ridden countries that rely heavily on imports.
Almost 40% of Africa's wheat imports come from Ukraine and Russia, while rising global wheat prices have sent bread prices in Lebanon 70% higher.
Since the last food price crises of 2007-2008 and 2011-2012, governments have failed to curb excessive speculation and ensure transparency of food stocks and commodity markets