Footprints of 3 Dinosaur Species: Rajasthan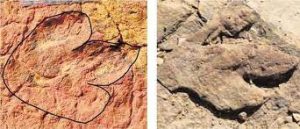 In a major discovery, footprints of three species of dinosaurs have been found in the Thar desert in Rajasthan's Jaisalmer district.
It proves the presence of the giant reptiles in the western part of the State
The footprints belong to three species of dinosaurs – Eubrontes cf. giganteus, Eubrontes glenrosensis and Grallator tenuis.
The footprints were 200 million years old.
The dinosaur species are considered to be of the theropod type, with the distinguishing features of hollow bones and feet with three digits (like fingers).
Theropod is any member of the dinosaur subgroup Theropoda, which includes all the flesh-eating dinosaurs.
All the three species, belonging to the early Jurassic period, were carnivorous.
The 'Age of Dinosaurs' (the Mesozoic Era – 252-66 Million Years Ago – MYA) included three consecutive geologic time periods (the Triassic, Jurassic, and Cretaceous Periods).
Different dinosaur species lived during each of these three periods.